King of Glory Lutheran Church
Dallas, Texas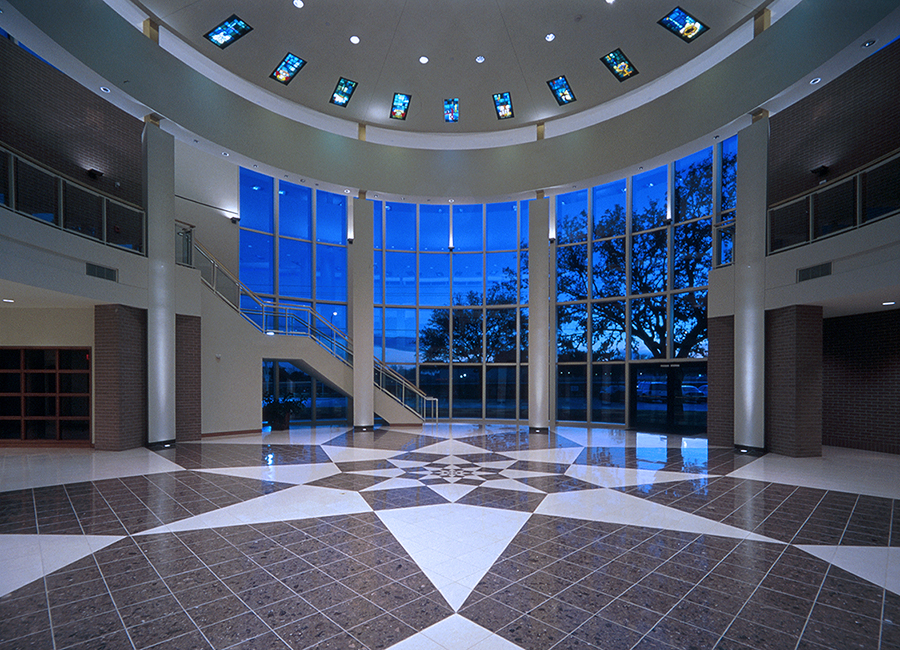 The King of Glory Lutheran Church is located on LBJ freeway between Preston and Hillcrest. The building program seeks to double the support and education spaces that currently exist and to expand the existing sanctuary. Equally important, with the very visible location on LBJ freeway, is the expression of the church's relationship to the community. The current architecture of the support facilities creates a "wall" that separates the church from the community. This "wall" obscures the facade of the sanctuary and confuses the reading of the building complex as a whole.

To solve this problem, we created a cylindrical open space in front of the sanctuary. The relationship is similar to the Baptistries that are sited in front of the great cathedrals of Europe. The cylinder allows support functions to be located nearby, thus eliminating long corridors to classrooms. Part of the cylinder is glass and opens out to LBJ freeway. This glass-enclosed public space functions as a "town square" and centers the church in space and time within the long tradition of civic town squares in which the church is the dominant element. The public square tradition called for a central point that was a place to meet, that created chance encounters, that restored relationships, and that symbolized the workings of the kingdom of heaven on earth. This space functions as a large "display case" for church events opening out to the freeway. The passers-by see in and momentarily become participants in the activities of the square.

Shopping malls have replaced the public square in modern times. The churches provide the only true places for human interaction today, places where people can share their deepest thoughts and fears, just as they used to in the public squares. The circular glass Commons is a celebration of what the church is today—a means of growing together spiritually but also as a human family.

A key feature of this glass cylinder is a circular ring that appears to float high inside the cylinder. Another is a circle of stained glass windows, vestiges of the old sanctuary, mounted in the ceiling. The tile floor is designed in a star-shaped fractal pattern that repeats itself in any scale in which it is examined. Just as the sanctuary is the center of worship, this great glass cylinder is the center of the King of Glory community. It will show others what they are about, and invite—indeed welcome—them to join.
Updated November 2015