WORLD CUP INTERNATIONAL BROADCAST CENTER
Dallas, Texas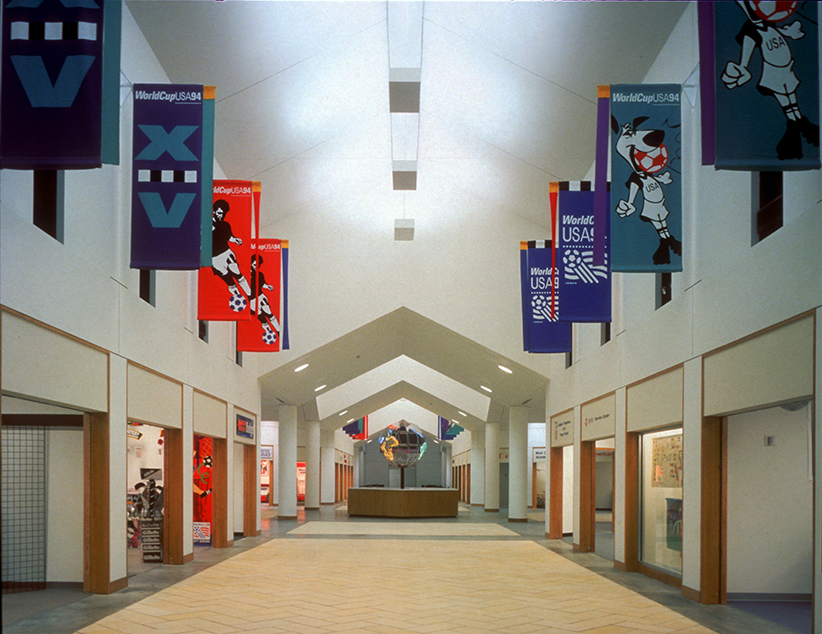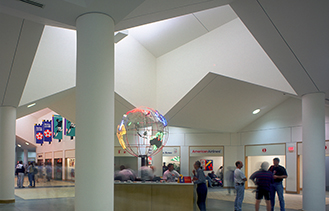 The World Cup International Broadcast Center (IBC) was created specifically for the 1994 World Cup Soccer Games in Dallas, Texas. The Service Center Galleries were constructed inside the Automobile Building of Fair Park for the purpose of providing broadcasters, print journalists, technicians, staff, and guests of the World Cup by offering a variety of eating establishments, business services, and retail shops.

At the center of the IBC was the World Cup Public Information Kiosk in which information was available on entertainment, transportation, game statistics, and language translation services.

Due to the historical nature of the Fair Park Automobile Building, the IBC Service Center Galleries was designed as a structure within a structure. A central axis down the center linked the entrance court to the public information Kiosk to Food Court. The structural lines of the Service Center Galleries align directly with the original structural lines of the Automobile Building. The 32 foot high ceiling is bathed in light to reflect the bright spacious skies of Texas. The open spaces in the gallery walls recall the shopping arcades of Europe, where residents could look out their windows upon the arcade. The Service Center Galleries are paved with natural Texas limestone to give the feel of an international bazaar.
Updated December 2015
Photos by Craig Blackmon